I have often been asked how I manage to get crispy Arancini even though we don't deep fry any of our foods....Well as per request here is my Air Fried Arancini Recipe.
Fillings can be added as per your taste this is just a base recipe to get you started and from here you can add in your own twist.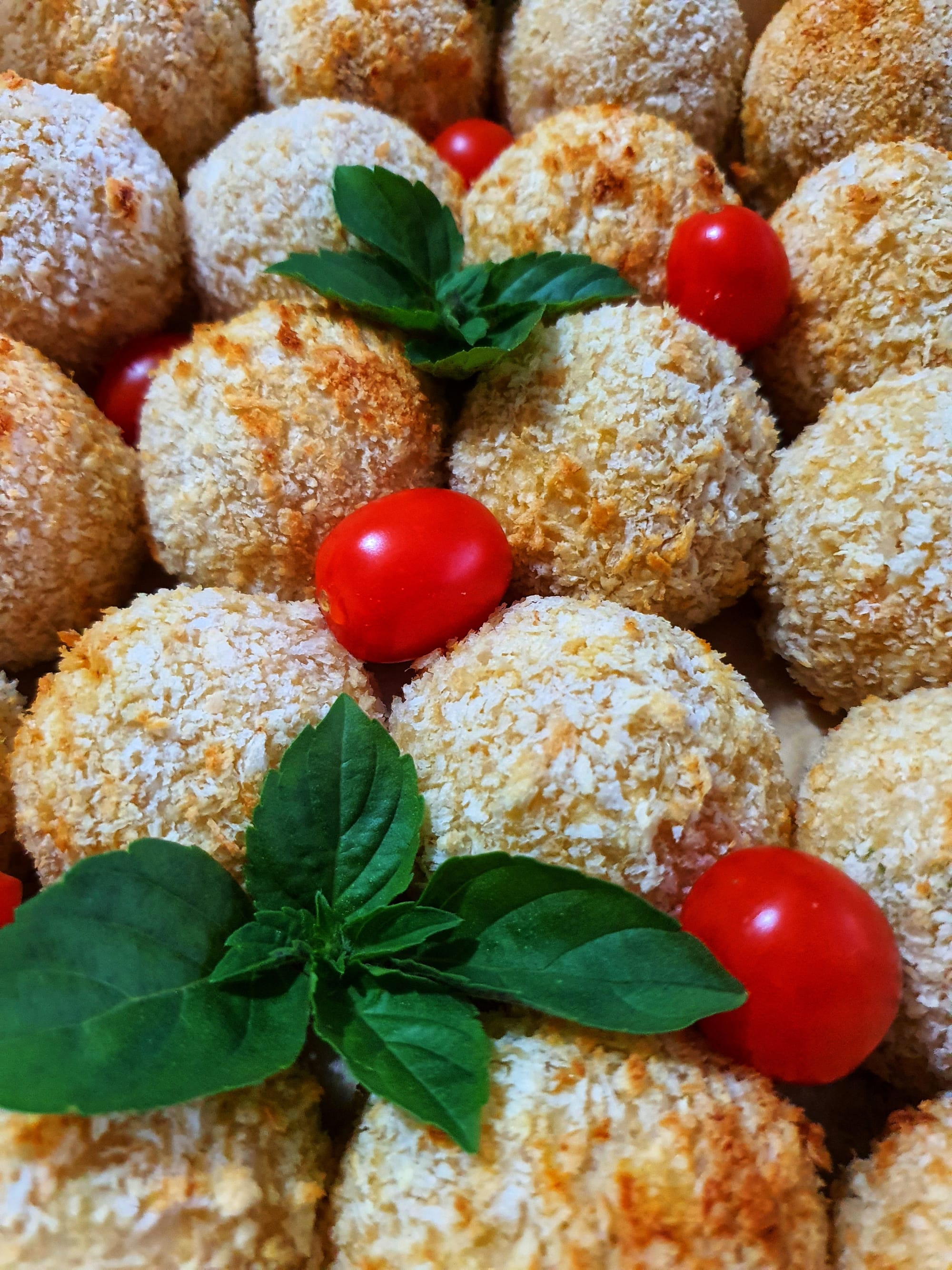 INGREDIENTS:
1.5 cup Arborio Rice
1/2 cup White Wine (I use what ever I have on hand as you can adjust the flavour later)
1 cup Milk
1 small Onion (Red or White is up to you, then fine dice)
3-4 cloves Organic Garlic (crushed fresh or Roasted Garlic Confit is fine also)
2 tsp Butter
1 cup Mozarella Cheese, grated
3/4 cup Mixed Cheese (grated - tasty, parmesan, pecorino or other cheese you like)
2 cups Panko Breadcrumb
3 Eggs
1/2 cup Flour
3.5 Cups Fresh Organic Chicken or Vege Stock
1 tsp Mixed Seasoning
(You can also add in Fresh chopped Oregano, Thyme or other Herbs for different flavours)
METHOD:
In a Large Saucepan place the butter onion and garlic and saute, on medium heat until opaque. Add in the rice and stir through the onion mix for at least 2 mins, if adding herbs this is the best time to do so.
Pour in the Wine, allow the wine to absorb through the pan ingredients, then add the stock and milk. Allow to simmer, on low heat, stir frequently and allow the liquid to absorb completely into the rice mix. Season and adjust as required.
Place the away from the heat and allow to cool for at least 15 - 20 minutes so that it is still warm but not hot. Mix through the cheese thoroughly.
Using a Ice Cream scoop, scoop out balls of the arancini mix onto a tray lined with greaseproof paper until you have run out of mix.
Allow mix to dry a little in the fridge for at least 3 hours.
Take a tray out and push a whole in each ball and add your desired filling, rolling the arancini back into a ball to ensure that the mix is in a round shape again.
Make a production line with your flour at the start, eggs beaten for egg wash in the middle and the bread crumb at the end. Place a clean tray after the breadcrumb to roll the arancini onto when finished crumbing.
Begin with one arancini, lightly coat with flour, then into the egg wash then finish with bread crumb making sure after each immersion you have copletely covered your arancini with the ingredient. Keep crumbing until all arancini are completed.
Lightly spray your air fryer tray with olive oil or use a piece of grease proof if your air fryer instructions allow you to use this in your machine.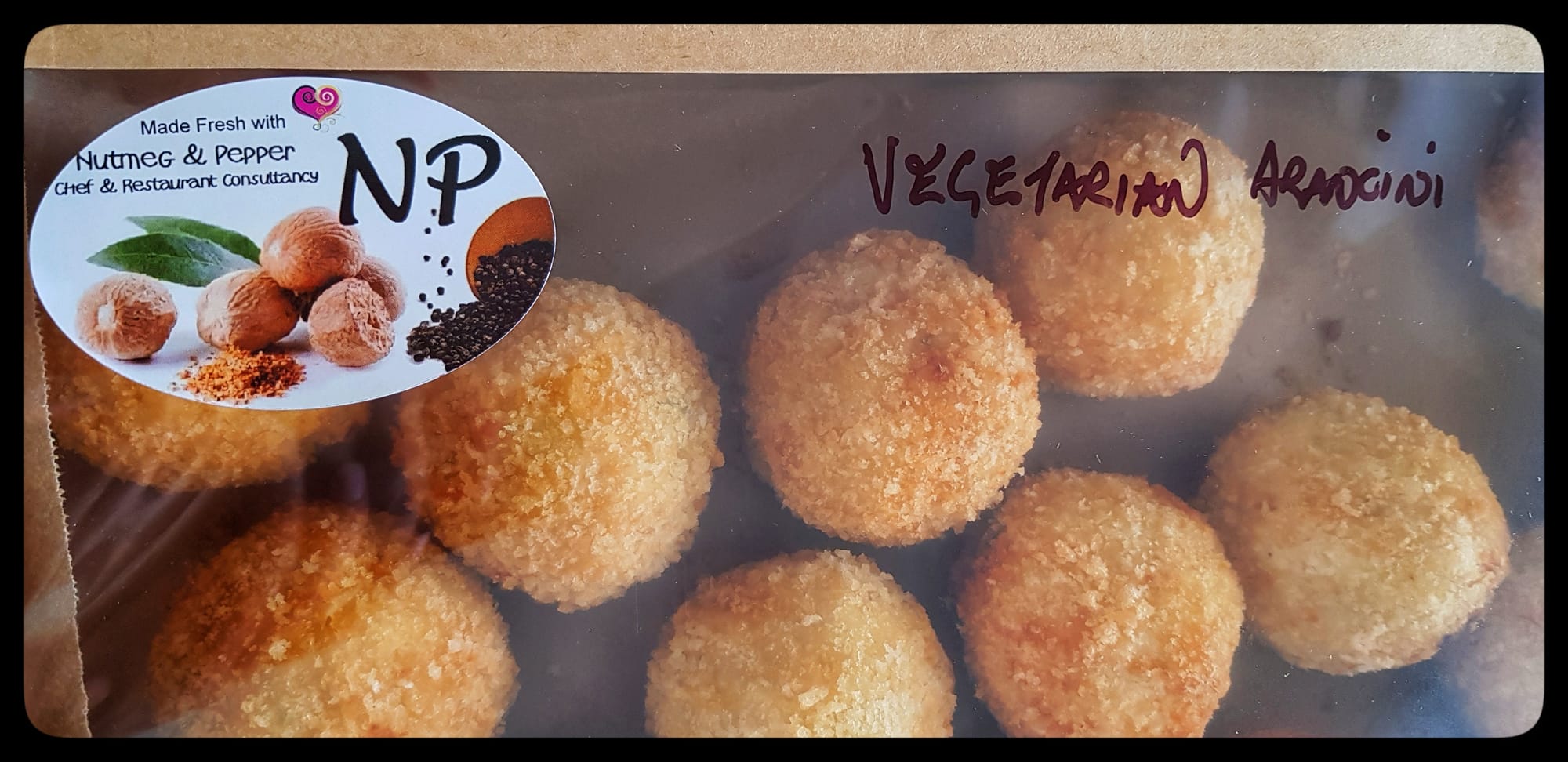 Make sure you do not over crowd the arancini as you will want the heat to be able to flow all around each ball.
Use the Frying Setting at 200C for 6 mins... blast for an extra minute if not completely golden (you may need to repeat, as each machine is different.)
After you have each arancini nice and golden you can place onto an oven rack when you are ready to heat for your party or event then place back in the oven for around 5 mins on 170C to heat through. Don't over-heat or your Arancini will burst or leak.