SMOKED SALMON TURMERIC SCRAMBLED EGG BURGER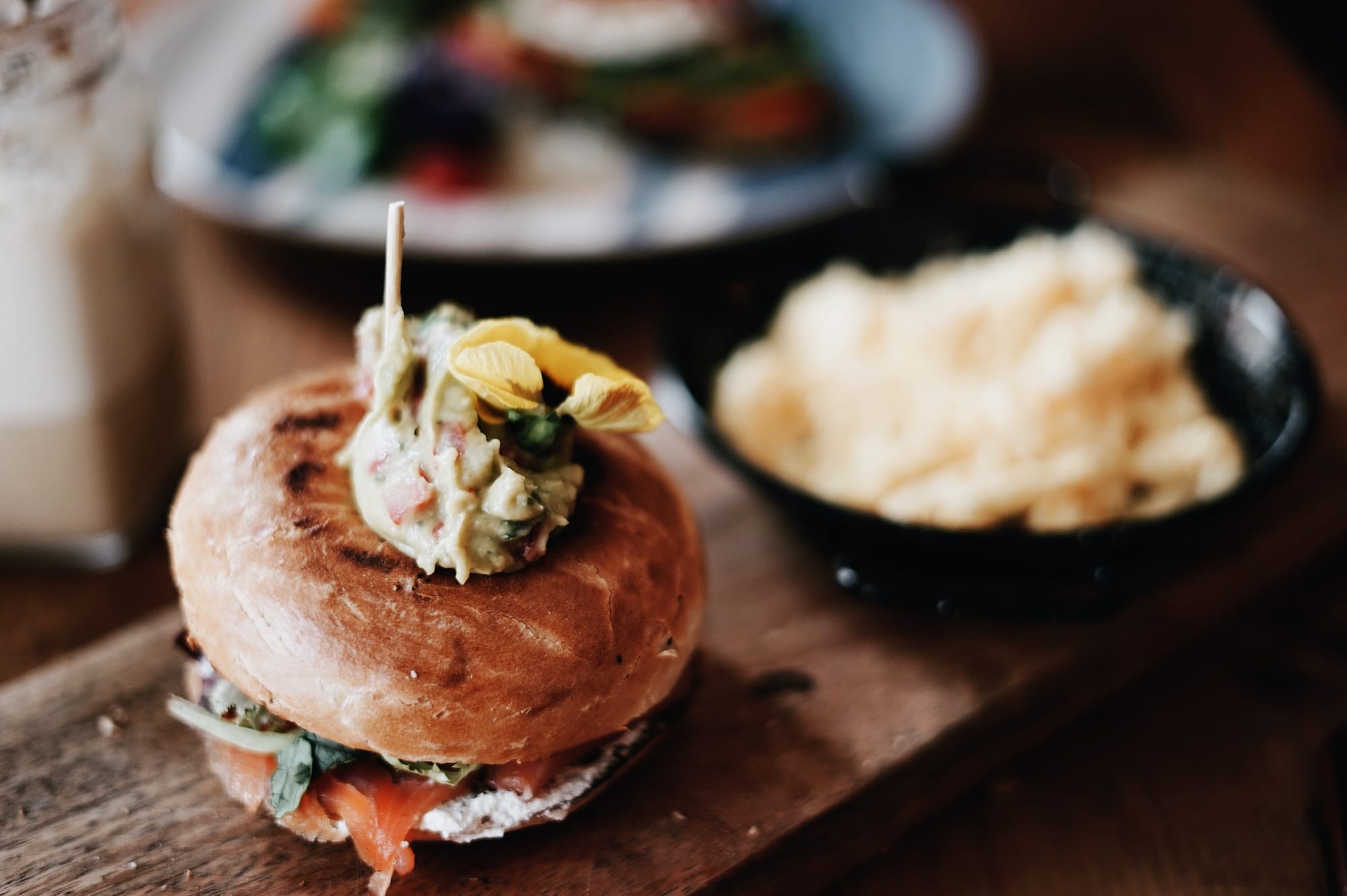 Key to a great Breakfast Burger is Fresh, Organic and Locally Sourced Ingredients.
Never pre-cook any of your burger ingredients.
Avoid Brioche as a burger base as it is high in sugar not a great start to the day.. If you have the time make your burger bun fresh or buy from a local Artisan Bakery.
I tend to use ingredients that are seasonal so that I am able to buy locally.
Eggs supplied by a local Organic Farmer are always the best.
Smokey Bacon or Bacon that comes from a Quality local Butcher will also be more flavoursome.
When building your Burger ensure you use fresh and cooked ingredients and layer them in a way that marries the flavours together.
I tend not to use raw onion in the morning as it is too sharp a flavour, saute the onion before applying will give a more subtle grounded flavour.
Kale, Spinach and Mescalin are all fantastic Breakfast items for Burgers it lifts the flavour of the Eggs & Spinach goes perfect with any protein.
Smoked Salmon,, Smoked Ham and Roasted Marinated Vegetables such as Capsicum and Eggplant can be used as layers.
Using more than one protein such as Bacon and Smoked Salmon can become a little overwhelming on the pallet.
Use of Dairy Products as a base on the bread will assist with bringing the burger together ie: cheese, cream cheese, Greek yoghurt, cottage cheese etc.
BURGER RECIPES:
Smoked Salmon Turmeric Egg Burger: Fresh Bakery Bun lightly spread with a Cream Cheese laced with Caramelised Onion and Shallots. Add Smoked Salmon, Mescalin and fresh Cooked Scrambled Eggs that have been made with a pinch of Turmeric.
Smokey Bacon Spinach Baguette Burger: Fresh Baked Baguette lightly buttered and topped with Baby Spinach, Smokey Bacon, Camembert and seasoned with a pinch of Sweet Paprika.
Egg & Roasted Capsicum Burger: Bakery Fresh Wholemeal Burger Bun lightly spread with Greek Yoghurt, Roasted Capsicum, Baby Spinach and a Poached Egg seasoned with Cracked Pepper and Himalayan Rock Salt.
Smokey Ham & Creamy Egg Burger: Bakery Fresh Sourdough Rye Roll topped with a scrambled egg laced with cottage cheese and diced smokey bacon. Season with a little Dukkah Spices.
Tomato & Bacon Burger: Bakery fresh Turkish Roll lightly spread with a Semi-dried Tomato Pesto then layered with Tasty Cheese, Rocket and Smokey Bacon.