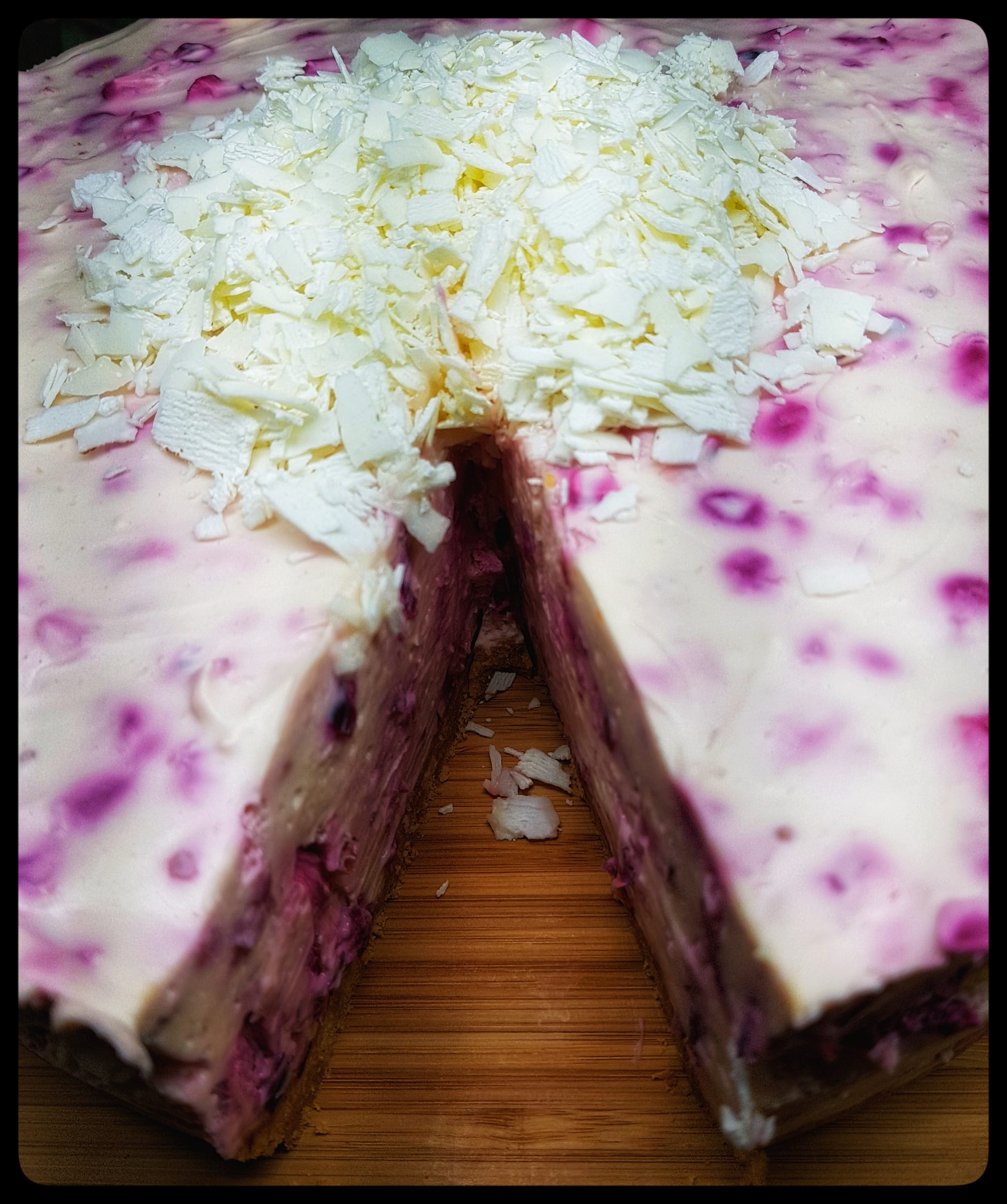 Our Cranberry & White Choc Festive Cheesecake


Preparation - Use a Spring form cake tin approx 25cm in size or if preferred 2 small 11cm size. Grease with Olive Oil Spray
Ingredients:
750g Cream Cheese (I use organic from an Italian Supplier but if you don't have a good deli near you I would suggest you use your favourite brand from the Supermarket)
250 Frozen Cranberries
250g Condensed Milk
40ml Lemon Juice (fresh)
1 pinch Garam Masala
350g White Chocolate (keep 100g aside for grating on top) use a good quality white chocolate such as a Lindt or a block from the European Deli
1 pkt of Marie Biscuits or more if you like a thick base
100g Melted Butter
Method:
Place Marie Biscuits in a food processor and grind till it looks like course sand. Stir through melted butter then press into your prepared cake tin/tins. Now set this in the refrigerator for at least 1/2 an hour to allow the biscuit base to set.
In a Mixer place the cream cheese, lemon juice and condensed milk and whip with a beater attachment until smooth. Make sure you scrape down the sides of the bowl regularly to ensure the mix is lump free.
In a small bowl place 250g of white chocolate and melt in microwave in 20sec bursts until just warmed through and melted. Do not over temper.
Add to the cream cheese mix and beat through.
Now add the Garam Masala and the Cranberries and mix until the cranberries look evenly spread through the mix.
Take the base out of the fridge and spoon in the Cheesecake mix. Allow to set overnight.
When ready to serve take out of the spring form tin and place onto a service tray or board. Shave the remaining white chocolate on the top of the cake and serve.