Located at 470 Charlton Esplanade, Torquay - Hervey Bay, Qld.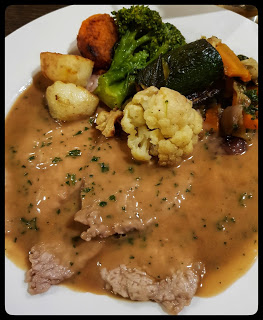 This is a lovely Italian Restaurant that is right on the Esplanade in Torquay. The menu has Pizza, Pasta and Chef Suggestions, I opted for the Scallopini Masala shown above.
Staff seated me straight away even though I had not booked. They took a while to come back for my order but I was brought over a bottle of water in the meantime. There is a large selection of drinks both alcoholic and non alcoholic. Desserts and Gelato are all made on premises.
No wood-fired pizza, but from what I observed coming out to other tables, look like they are on homemade dough.
The restaurant caters for large and small groups and was rather busy already at 630pm. I would suggest booking.
Decor is rather eclectic but relaxing with atmospheric lighting. I managed to get a table by the window overlooking the park.
The Scallopini arrived with lashings of vegetables and real veal. Great flavours for each vegetables and the Masala sauce was so tasty and I wanted to lick my plate clean. I stopped myself from doing this only because I wanted to try the homemade Cannoli, which also was authentic and had that perfect crunch with the amazing custard.
Even though I don't normally eat dessert I had to accompany this with the homemade Pistachio Gelato.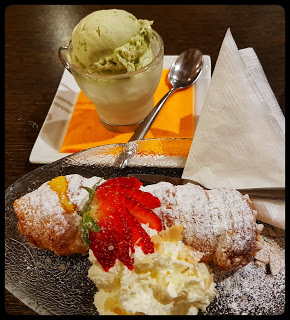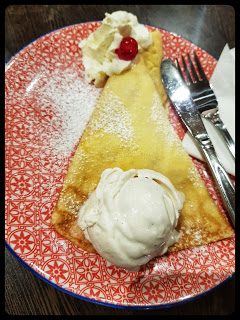 This is the Lemon Crepes, the table next door allowed me to photograph. This lovely family asked me to join them and were quick to tell me how enjoyable their Risotto and Crepes were.
Overall it was a fantastic atmosphere, food and the owners are a delight to chat with.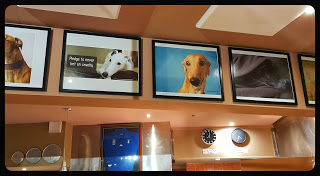 The Owners Of Santini are Greyhound Rescue dog owners and I was privileged enough to meet the two family additions. Feel free to ask to meet them.