For all our lovely regulars and new to ordering clients... we are now offering our Winter 2020 Menus... be sure to book early to save your date!
If you are planning to entertain this Winter then you can't go past one of our Seasonal treats...
There is a flavour and a menu item for everyone...including our Vegan, Vegetarian and Gluten Free options.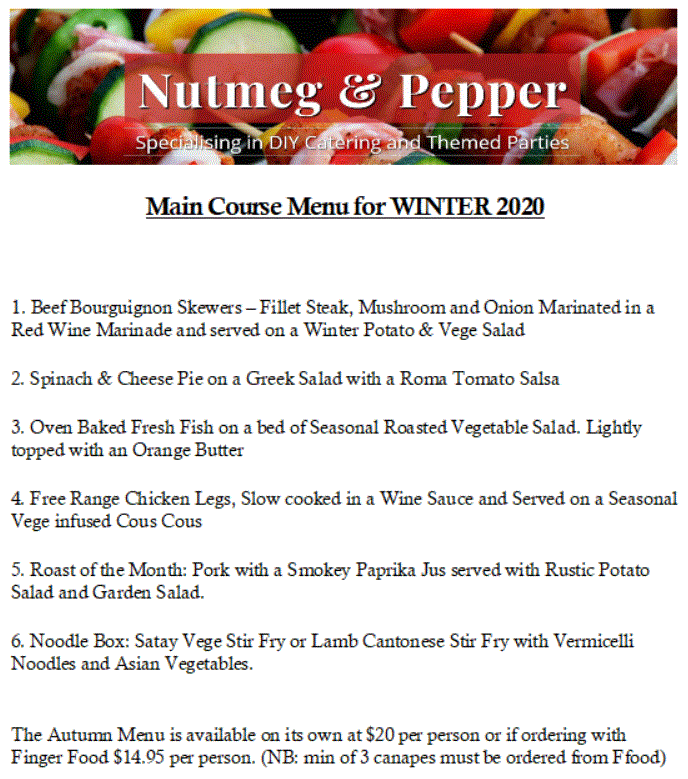 Our Mini Mains are easy to consume standing or sitting and are the perfect compliment to our Finger Food or Dessert Options. Pair up the Mini Mains with our Food Truck option for a fun treat at your next event.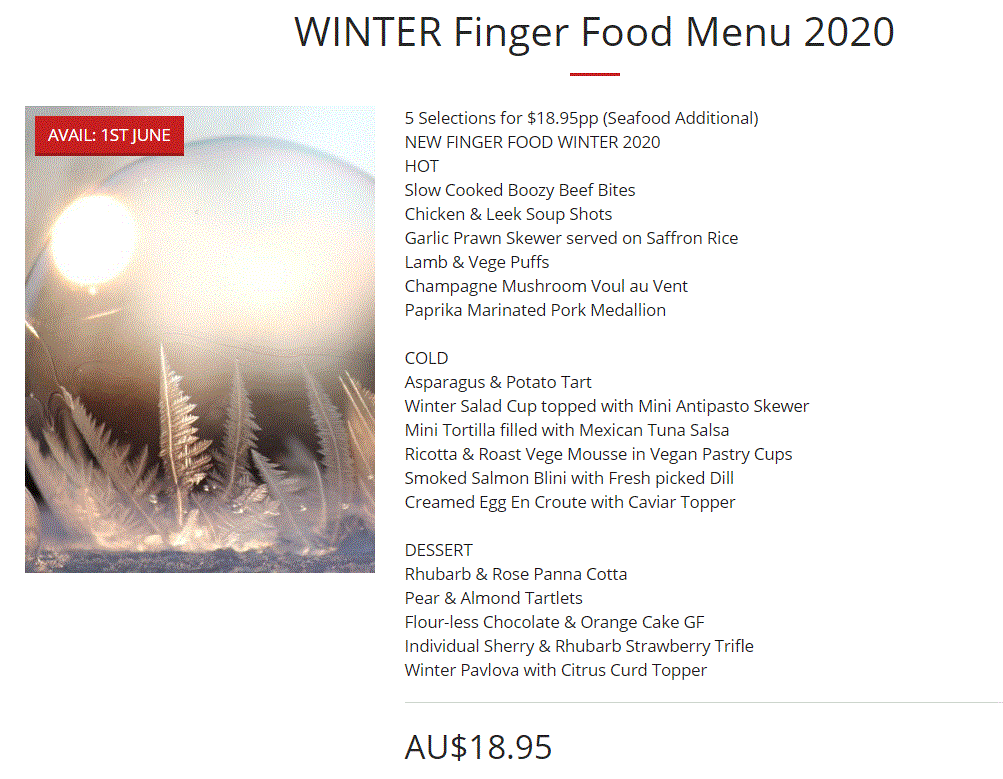 Our Winter Finger Food Menu can be mixed in with our other Finger Food Packages...just for your convenience.
You may like to have a Winter Style Boutique Buffet... Nutmeg and Pepper Catering can provide a selection of Winter Hearty Buffet options perfect for your event starting from $29.95 per person. Speak to our Chef to come up with your perfect Winter Menu today!!!
All of our Menus are created by our Chef and are fully prepared in our kitchen, we do not buy food and reheat and serve it as our own. The Jam and Relish are also made by us and ensure you receive the best quality tasty ingredients at all times. Fruit and Vegetables are purchased from our Certified Organic Supplier where possible, if we ever need to substitute we will always source the best quality alternative from a local supplier. Did you know most of our Fruit and Vegetables are grown in the Granite Belt Region and Murwillumbah region? Taste the difference when you eat our food.
We love to use Organic Herbs and Spices as well... our Herbs and Spices are either grown in our own Organic Garden or come from Austral Herbs in NSW.
You can also purchase these herbs and spices in their dried form via our online Shop.