Our Tasty Mezze Platter can be served as an arrival platter or as part of a grazing style event. With a tasty selection of local sourced Cheese, handcrafted Labneh, Seasonal Fruit, Dried Fruit and a Selection of Nuts.
The Mezze Platter also boasts a nice selection of Handcrafted Dips with an assortment of Croustini and Crackers.
Price per person is $24.95 and there is plenty of food to graze on. Choose to order as part of Buffet or Finger Food Selection, BBQ or Buffet.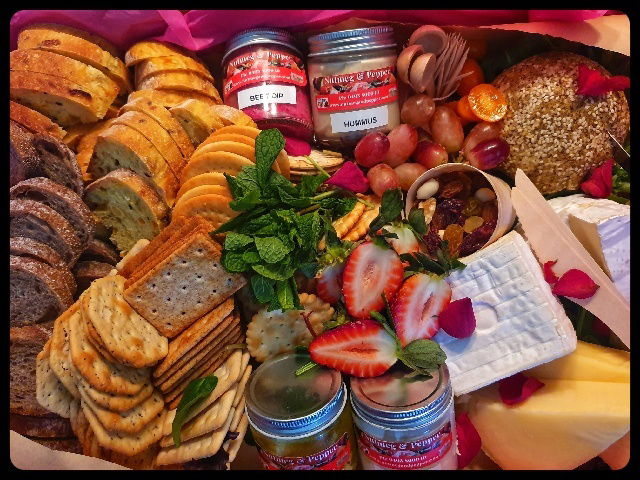 Our DIY option will be delivered to your door in a ready to serve Catering box including a few Bamboo Serving Knives to use at any site. No need to bring any utensils.
The Cheese is an assortment of both Soft and Hard Cheese. We can also provide a Vegan Cheese for an additional $6 per platter. Gluten Free Crackers for no additional cost and you can add Salami, kabana, Prosciutto and Pancetta for an additional $3 per person.
The above picture shows the portions for 10 pax.
Our Handcrafted Dips: Hummus is made Dairy Free using a Chickpea and Arabic Spice base. Tzytzyki is made using fresh Greek Yoghurt, Cucumber and Garlic base. Baba Ghanoush is made from our Organic Eggplant and Za.atar base. Tomato Salsa is made from our Organic Tomato base. Basil Pesto is made from our Organic Greek Basil and Pinenut base. Depending on the numbers in your group you may receive 3 or more of these dips.
Cheese Selections that we use depending on availability: Byron Bay Cheeses, Olympus, Kenilworth and Granite Belt Cheese. With selections ranging from Marinated Fetta, Camembert, Brie, Vintage Cheddar, Labneh, Cheeseballs, Goats Cheese and Blue Cheese. Variety provided will be subject to numbers and availability.