Located at 47 Charlton Esplanade, Torquay - Hervey Bay QLD.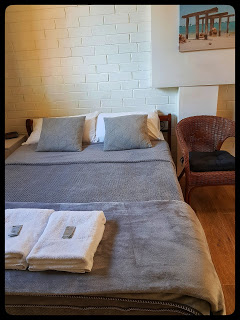 I booked the Bedsitter through Bookings.com for a mere $73.70 for the night.
The room was clean, tidy and had nice decor. The shower had low pressure and the bed was very hard.
The stay was peaceful and as I was at the back of the complex did not hear a peep from anyone or anything all night.
Brilliant location and easy access to the beach and restaurants.
I did a review on the Italian up the road called "Santini", this was a must and I can't wait to come back and do the food there again.
The staff at the accommodation were very lovely and suggested things to see and do.
There is an on-site laundry and parking plus free WiFi.