At Nutmeg and Pepper Catering we pride ourselves on creating handcrafted and organic foods for our Catering Clients. With the ever changing dietary needs of our guests we like to ensure that there is always flavour and different choices to what everyone else has on their menus and that is what sets us apart from the rest...
Lately we have been getting a lot of requests for this beautiful little Orange Cake that was a combination of love and effort to ensure that it was moist, tasty and gluten free please note you can make this with or without the Cream Cheese Icing. In the picture below you will also notice our Gluten Free Coconut & Chocolate Biscuits which I will share the recipe for at a later date.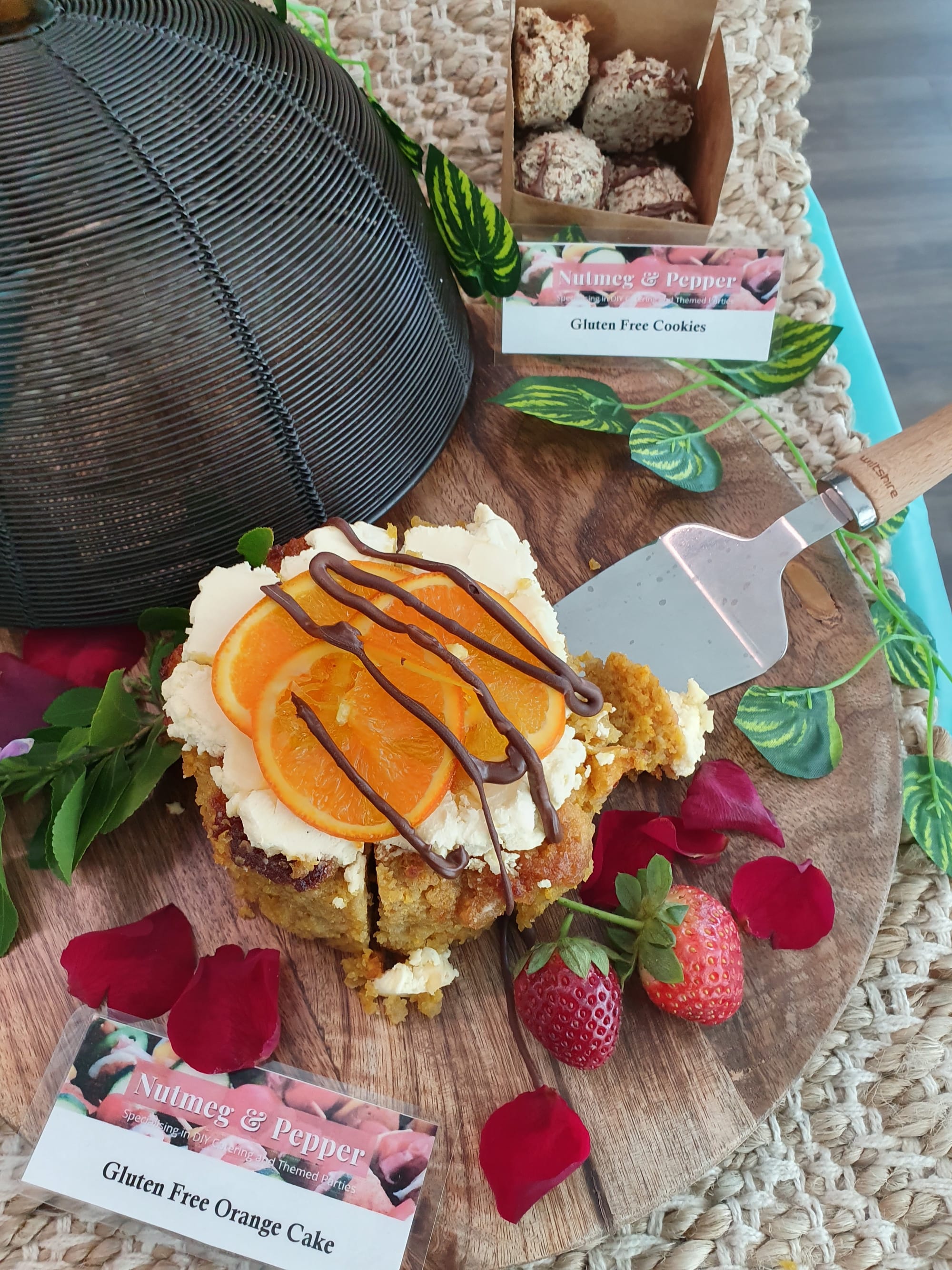 Makes 2 x 11cm round Cakes or 1 x 22cm round Cake... use a spring-form cake tin lined with butter and baking paper.
Ingredients:
4 Large or 5 Medium Organic Seasonal Oranges (I use Navel in Summer and Valencia in Winter)
6 Organic Free Range Eggs
1/4 Tsp of Garam Masala
225g Caster Sugar or Organic Raw Caster Sugar
1 1/4 Tsp of Gluten Free Baking Powder
250g ground Almonds or exchange 50g of Almond with ground Pistachio for something a little different.
100g Spreadable Cream Cheese
1/4 Tsp Lemon Rind
1/4 Tsp Organic Lemon Juice
Method:
Take out the core from the oranges and scrub them lightly under running water to remove any surface dirt.
Place oranges into a heavy based small pot and cover with cold water until all oranges are submerged. Bring the water to the boil then drop heat to medium low and allow to simmer for at least 2 hours. Drain and set aside the oranges to allow them to cool.
Place the oranges in a food processor and set your oven to 190C or 180C Fan-Forced.
In a large bowl beat the eggs and dry ingredients together then add the pulped orange mixture.
Pour your orange mix into your prepared pans. and bake for 1 hour in large pan or 45 mins if you have the mix into 2 mini pans.
Allow the cake to cool completely in the spring-form tins before taking out of the pan.
This can be made the day before as it will be more flavoursome and moist the next day.
When ready to serve - place cream cheese, lemon juice and lemon rind and whip in a bowl you may like to add a hint of sugar although the cake is quite sweet. Once you have whipped the cream cheese into a spreadable consistancy -carefully spread a small layer on top of the cake and serve topped with Orange or Lemon Garnish.