This delightful recipe I have used on many a specials Menu and over the years changed it a little to suit the clientele I am Catering for....
Please enjoy it and share with your family and friends.
Recipe is for 4 people as a main or 8 people as an Entree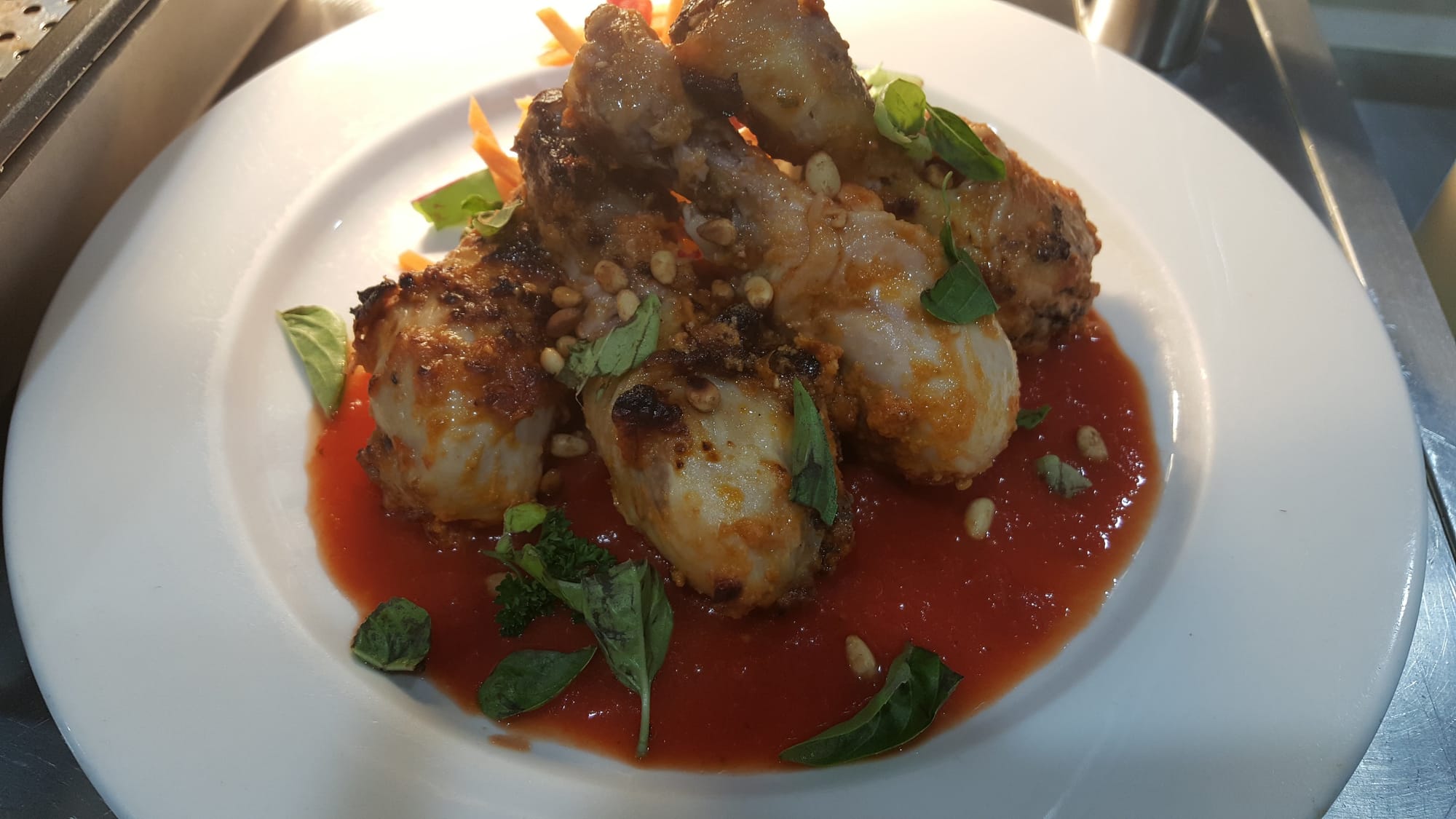 INGREDIENTS
16 Free Range Chicken Legs
200 g Semi Dried Organic Tomatoes
2 cloves Organic Garlic, peeled or confit
150 g Pine Nuts - lightly toasted
1 bunch fresh Organic Basil
1 litre of Organic Passata Sauce
Himalayan Organic Pink Rock Salt, Ground
Cracked Peppercorns -Trio or Black
100 ml Extra Virgin Olive Oil
METHOD
In a Mortar and Pestle add half the Pinenuts, and all of the Semi Dried Tomatoes with the Garlic. Pound until a smooth paste is formed, adding Olive Oil as required to keep the moisture and to form a paste.
Using a sharp knife, score the outside of the chicken legs to make a pineapple look to the outside. This will allow for the flavour of the Tomato to get into the meat.
Place the chicken legs into a baking tray and add the tomato paste and about half the basil leaves to the pan. Massage into the legs allowing the basil to bruise and release their aroma into the legs. Place in the fridge and allow to marinate for around 1 or more hours. (You can make this up the day before you require).
Pre-heat oven to 180C. Take the chicken out of the fridge and allow to rest on the bench, covered, whilst waiting for oven to heat up.
Season the legs with Salt and Pepper then place into the oven and cook for 28 minutes or until a thermometer reaches 70C or above when tested.
Whilst the legs are cooking, place the passata sauce into a small saucepan with a little seasoning and a sprinkle of the left over basil leaves. Heat to a simmer slowly then set aside and keep warm.
Once the legs are cooked through ... arrange them on a platter and apply the sauce over the top using the remaining basil leaves and pinenuts as garnish.